COVID19 Testportfolio - µELISA at the point of need in lab-quality
With a series of 3 rapid tests based on the GENSPEED µELISA platform, GENSPEED offers a product portfolio with great added value for the entire society. The antibody test is already available on the market. 
The GENSPEED Ag xPOC antigen test in the patented µELISA format will follow in autumn 2020. 
In 2021, we will launch a combined antibody/antigen test as a world first, which for the first time allows the simultaneous detection of acute infection and antibodies.
1. COVID19 IgG xPOC - rapid Antibody detection via µELISA
The 1st test in the COVID19 test portfolio is an antibody test and provides laboratory quality results on site within 15 minutes from just one drop of blood from the fingertip.
As the test detects antibodies against 3 different  SARS-CoV 2-Antigens, it is both highly sensitive and specific. This is impressively demonstrated in a publication in the Journal of Clinical Virology in which the GENSPEED COVID-19 IgG xPOC antibody test achieves 100% sensitivity and 93% specificity with a measurement time of 15 minutes compared to 6 laboratory ELISA tests with measurement times between 2 and 4 hours!
Advantages of the COVID19 IgG xPOC Antibodytest
Measurement from a fingertip drop of blood (20 µl)

Results within 15 Minutes

High Sensitivity

Comparable with Lab ELISA Test

High Specificity
Information about the amount and quality of antibodies

Semi-quantitative results
Binding behaviour of the antibodies against special antigens (Receptor Binding Domain and Spike Protein) allows conclusions to be made about the quality of protection against new infection
2. COVID19 Ag xPOC - rapid detection of acute infections
The 2nd test in the COVID19 test portfolio is an antigen test for the detection of an acute infection on site within 15 minutes Laboratory quality results from smear material.
As the test detects viral proteins (antigens) of other viruses in addition to several SARS CoV 2 antigens, it is both specific and sensitive.
Here are the features and advantages of the COVID19 Ag xPOC – antigen test    
Measurement from swab material

Results in 15 Minutes

High sensitvity

compared to conventional lateral flow tests due to the novel microfluidic and chemiluminescence-based system

High specificity

Test chip measures whether antigens of other viruses are present

Information about virus load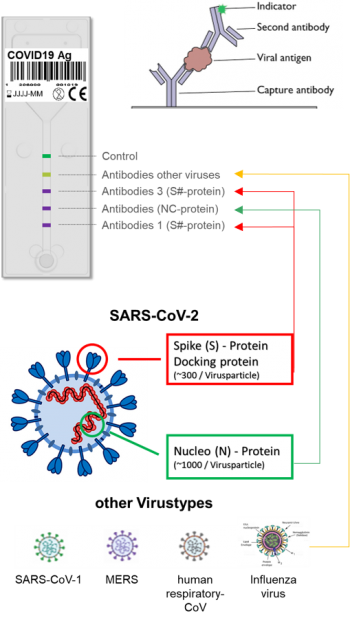 3. Combined COVID19 IgG/Ag Test
The 3rd test in the COVID19 test portfolio is COVID19 COMPLETE, a combined antibody/antigen test that fuses the two individual GENSPEED test chips for antibody and antigen testing into a single test chip. We will launch this test in spring 2021. 
Thus COVID19 COMPLETE will be the first rapid test that simultaneously targets both infected and recovered patients